Fort Lauderdale is a large seaside community in South Florida along the Atlantic Ocean. The community has beautiful beaches and boating canals along the prestigious A1A highway. Fort Lauderdale is an upscale area with walkable shopping centers, upscale dining, and stunning beachfront homes. It is conveniently positioned less than an hour from Miami and has an international airport. Locals love the luxury lifestyle filled with outdoor activities like golf, tennis, boating, and more.

When you are not hitting the waves or exploring the parks, you can enjoy the coastal views from distinguished restaurants. Dining in Fort Lauderdale is a unique experience. There are so many places to dine that offer upscale experiences with impeccable service and fresh dishes. With the miles of ocean coastline filled with restaurants, shopping centers, and hotels, it will be easy to find an excellent dining option in Fort Lauderdale. Here are some of the best restaurants in Fort Lauderdale.
Steak 954
401 N Fort Lauderdale Beach Blvd, Fort Lauderdale, FL 33304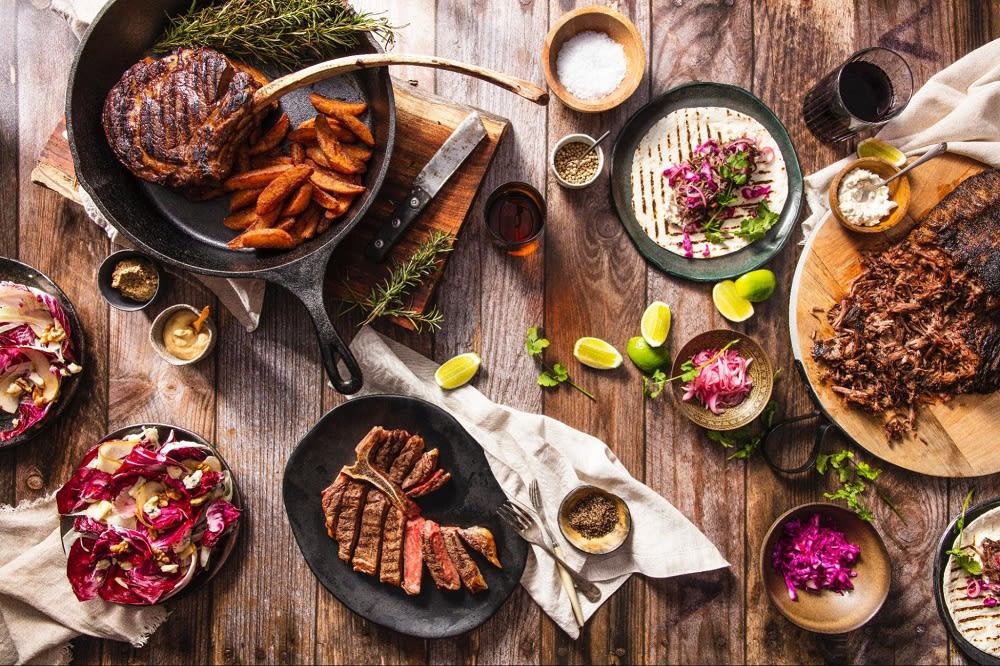 Steak 954
is a classic steakhouse with a modern twist for a sophisticated and elegant dining space. It is a waterfront restaurant in West Fort Lauderdale that showcases scenic ocean views. The steakhouse has a modern nautical vibe drawing on the coastal colors and a central reef aquarium that houses jellyfish. Steak 954 serves the highest quality cuts of meat like dry-aged prime and American Wagyu beef, local fish, and a wide selection of local and international wines.
The Capital Grille
2430 E Sunrise Blvd, Fort Lauderdale, FL 33304
The Capital Grille
is located in the popular Galleria shopping center and is designed for comfortable elegance. The restaurant is pure luxury with African mahogany, sleek décor, and art deco chandeliers. It is a nationally-renowned dining option famously known for its dry-aged steaks, fresh seafood, and extensive wine list. It aims to ensure each customer loves every part of their dish by using fresh ingredients prepared by highly trained chefs to satisfy all your senses. The popular dry-aging process begins approximately 18-24 days before the steaks are grilled to perfect an unmatched flavor and texture. The meat is hand-carved by in-house butchers for an intensive but worthy process to serve incredible meats.
Boatyard
1555 SE 17th St, Fort Lauderdale, FL 33316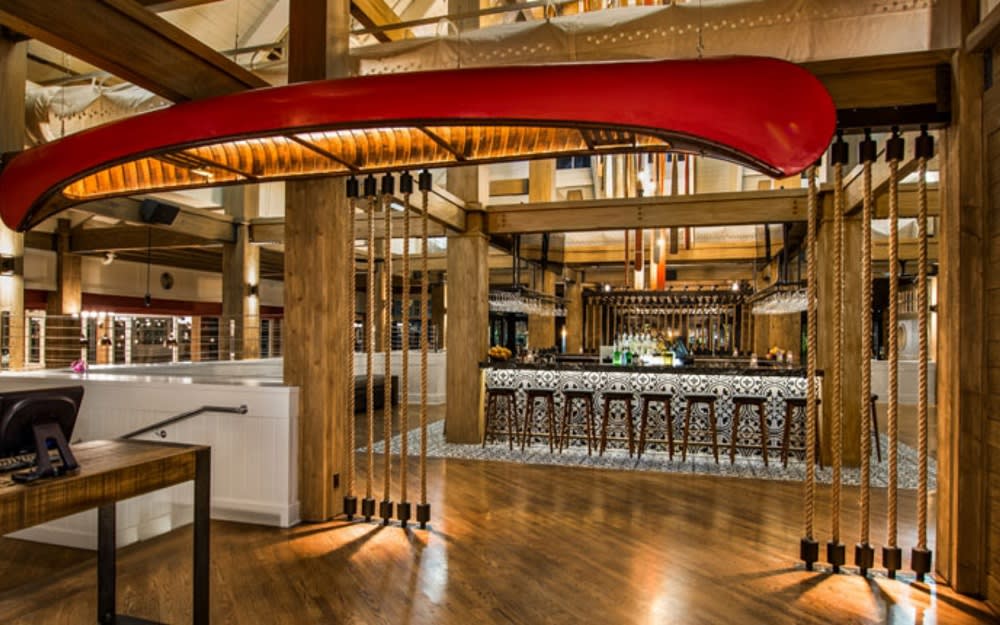 Photo courtesy of Boatyard
Boatyard
is in the center of the world's yachting capital and is a premier waterfront restaurant in Fort Lauderdale. It is an upscale, nautical dining option with a chic, sophisticated vibe. Guests can arrive by boat or land to enjoy this laidback space and enjoy the marina views. Boatyard has an eclectic menu with an emphasis on seafood dishes made from fresh daily catches. It also offers a raw bar, shellfish selections, and high-quality meat cuts. The highly trained chefs use locally sourced ingredients and thoughtfully prepare meals to satisfy all guests. The restaurant has an 80-seat dockside patio with Intracoastal views and beautiful shaded seating. The indoor dining space has an open kitchen, expansive raw bar, and private event space. Patrons can relax and soak in the views and delicious food in this upscale dining space.
Rivertail
4 W Las Olas Blvd Ste. 120, Fort Lauderdale, FL 33301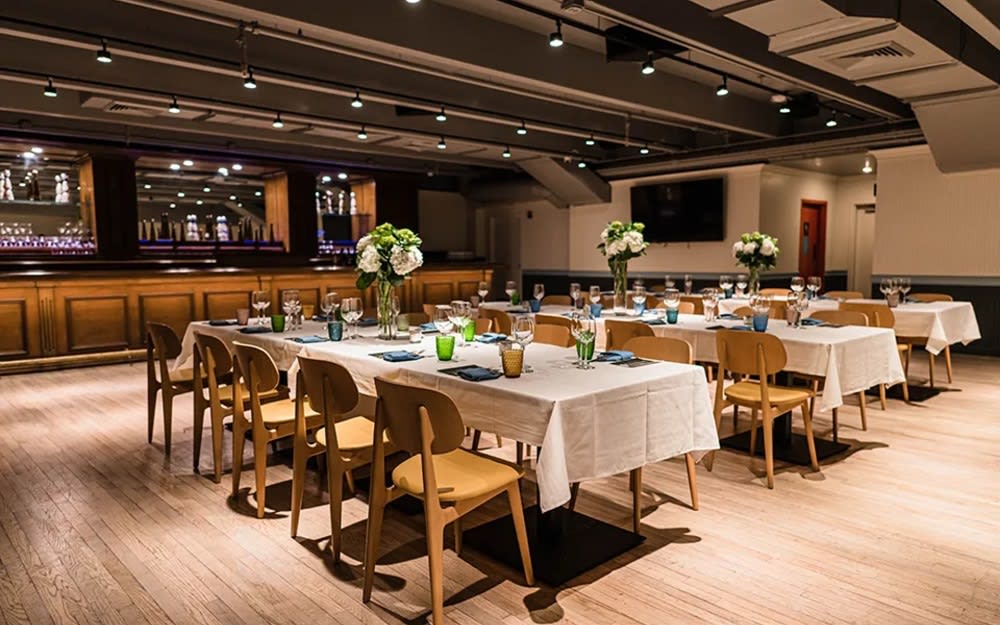 Photo courtesy of Rivertail
Rivertail
is a vibrant and lively upscale dining experience in downtown Fort Lauderdale. It has a casual chic vibe and is a spectacular waterfront property. It is ideally located on the Riverwalk and welcomes guests walking through the center. Rivertail has a seafood-driven menu that guests can enjoy on the patio or indoor dining space. The five-time James Beard-nominated chef curates a fresh and thoughtfully prepared menu. The restaurant also hosts fun events like Titos & Taquitos on Tuesdays and Shaken Not Stirred on Thursdays to highlight their delicious martinis.
Bistro Mezzaluna
1821 SE 10th Ave, Fort Lauderdale, FL 33316
Bistro Mezzaluna
is a long-time favorite for locals. The upscale Italian restaurant is a free-standing building allowing space for valet parking and a grand entrance. The bistro has a reputation for exceptional service, bistro-style dishes, and an award-winning wine list. The upscale restaurant has a wide-ranging menu with notable dishes like prime steaks, homemade pasta, and freshly caught seasonal seafood like stone crab claws. Every dish and dessert is made in-house for bold and fresh flavors. Bistro Mezzaluna is an intimate and warm environment for gatherings and celebrations.
Eddie V's Prime Seafood
100 E Las Olas Blvd, Fort Lauderdale, FL 33301
Eddie V's Prime Seafood
is on the first floor of the 100 Las Olas building, a luxury condo in downtown Fort Lauderdale. It is stylish and sleek, with light background music, private lounge areas, and incredible service. Guests enjoy a memorable experience and luxury menu with high-quality meat and seafood prepared with signature appetizers and cocktails.
Lona Cocina Tequileria
321 N Fort Lauderdale Beach Blvd, Fort Lauderdale, FL 33304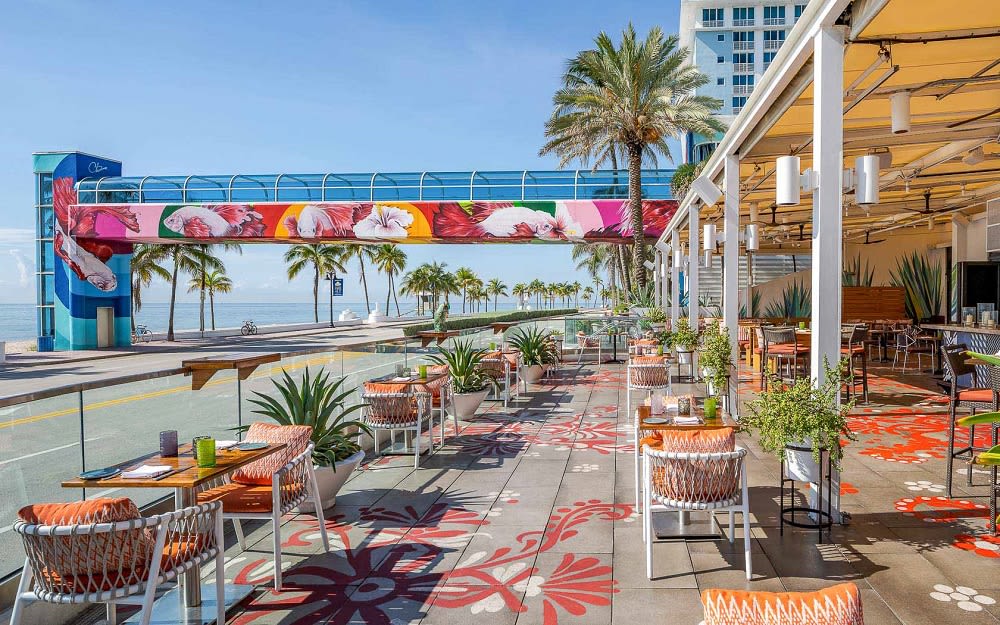 Photo courtesy of Lona Cocina Tequileria
Lona Cocina Tequileria
is a thriving and lively authentic Mexican restaurant on the water. The colorful restaurant showcases local artwork and artists with vibrant artwork throughout the facility. Lona is an expansive and unique restaurant with different dining options. The terrace is covered but open to the breeze and blue waters. There are also four private dining spaces for seating up to 70 guests with beautiful designs and views. The Lona patio is ample space for 150 guests with colorful seating, tropical landscapes, and ocean views. Locals loved the relaxed vibe, beautiful artwork, unobstructed views, and unique dishes like lobster quesadilla and Ahi tuna tostada.

Fort Lauderdale is a large, world-class city with a vibrant dining scene. There are many options that take advantage of its coastal location and fresh seafood. You can find award-winning upscale restaurants with world-class service, the most delicate meat and seafood, and spectacular views. Much of the lifestyle and unique characteristics are captured in the diverse and luxury dining scene in Fort Lauderdale. It is a lively city with a lot to explore. You can also explore the Fort Lauderdale real estate market and find your dream home in this fantastic community.
Find Fort Lauderdale real estate
Tim Singer
and his team are experts when it comes to Fort Lauderdale real estate and surrounding areas. Tim has more than three decades of experience in luxury real estate and is a long-time resident with personal experience in the community. His team provides their clients with white-glove service and close sales through top-dollar negotiations, executive marketing plans, and exceptional communication. Experience all Fort Lauderdale offers and start your
home search
today.